Royal Initiatives and Development Projects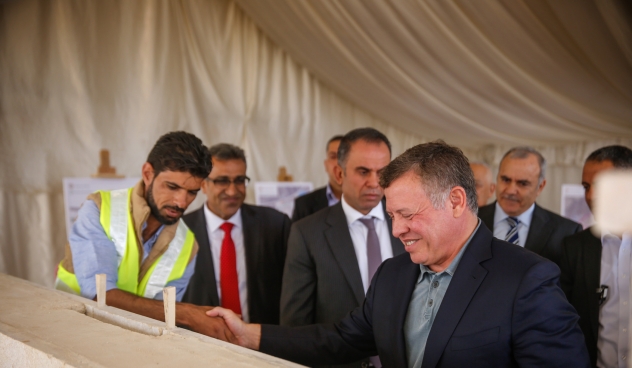 His Majesty King Abdullah II's initiatives were launched to implement a vision to enhance the living conditions and standards of citizens. These initiatives build on various achievements and encompass several sectors — health, education, youth, the safeguarding of holy sites, social development and productive projects.
As His Majesty King Abdullah II ascended to the Throne on 7 February 1999, several Royal initiatives were launched that built on Jordan's achievements and implemented His Majesty's vision for enhancing citizens' living conditions. Today, these initiatives encompass a range of sectors, such as healthcare, education, youth, custodianship over holy sites, social development and income-generating projects.
The Royal initiatives include:
King Abdullah II Fund for Development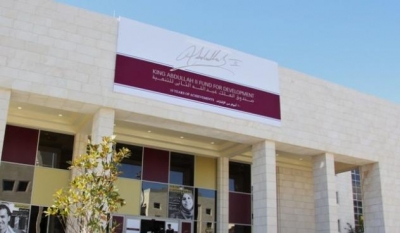 Established in 2001, as a non-governmental organisation, the King Abdullah II Fund for Development (KAFD) strives to improve living conditions in the Kingdom's governorates by implementing social, educational and economic programmes aimed at distributing sustainable development gains through partnerships with the private sector and civil society institutions.
KAFD's programmes and projects seek to serve individuals, companies and public and private institutions within a framework that reflects KAFD's principles of transparency, productivity, sustainability, collaboration and efficient funding. Moreover, KAFD seeks to contribute to a fair distribution of development gains among the governorates by establishing pioneering productive projects through real public-private partnerships and with civil society organisations.
KAFD's Goals:
Supporting programmes and activities aimed at increasing national productivity and offering job opportunities by enhancing citizens' living conditions.
Contributing to establishing productive projects and entrepreneurial development initiatives around the Kingdom's governorates, in addition to offering means for support and technical consulting to upgrade them.
Building citizens' capacities to enhance their competence and productivity.
Supporting activities and offering programmes that galvanise young people's creativity and excellence as well as nurture their talents.
Promoting entrepreneurship by supporting research, innovation and development programmes.
Official Website
King Abdullah II Centre for Excellence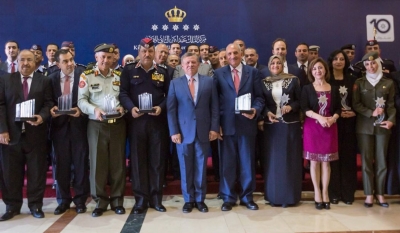 Founded in January 2006, the King Abdullah II Centre for Excellence (KACE) aims to spread a culture of excellence and to function as a national point of reference to identify Jordan's competitiveness by adopting best practices and incorporating them into the standards of the awards it launches and implements across all sectors.
KACE is the national point of reference assigned to measure the level of excellence and quality at public institutions, private unions, companies, education service providers and non-governmental institutions. It measures their capabilities and efficiency in providing services, in addition to their contributions to the competitiveness of the Jordanian economy.
The centre administers several awards.
Official Website
Development and Service Projects
Through King Abdullah II's field visits to the country's governorates and meetings with citizens and representatives of tribes and camps, the priorities of development projects in various sectors were identified. 
Sectors and Projects
His Majesty King Abdullah II has given a great deal of attention to the development, social and humanitarian sectors of the Jordanian community, striving to upgrade these vital areas with the goal of reaching sustainable development.
The Royal initiatives include the following projects:
Development Initiatives
His Majesty King Abdullah II has launched a number of development initiatives that are being implemented in partnership and coordination with concerned official parties, and they include:
Supporting the Hashemite Fund for the Development of the Jordanian Badia by covering the operational expenses of a number of agricultural and productive projects.
Supporting the King Abdullah II Fund for Development, which includes several development and productive projects in all sectors in cooperation with civil society institutions that have received steady financial assistance.
Establishing productive factories to develop local communities and secure job opportunities to combat unemployment and poverty.
Youth and Sports Sector
In implementation of King Abdullah II's vision, the youth sector has been supported in coordination with the Higher Council for Youth to benefit all governorates, by:
Launching and equipping community centres for young men and women.
Starting knowledge stations with the latest computers and connected to the Internet.
Opening cultural forums.
Constructing facilities and stadiums for sports clubs.
Vocational Training and Recruitment
In accordance with His Majesty's directives to combat unemployment, to employ and recruit young people and to enhance the standards of living of families around the Kingdom, especially in underprivileged areas, the Vocational Training Corporation has received support through the following actions:
Establishing training workshops and equipping them with the needed tools and devices.
Launching training programmes to qualify technical cadres in partnership with the Jordan Armed Forces-Arab Army and the Vocational Training Corporation.
Energy
Several pioneering projects to generate power from solar energy have been implemented around the Kingdom, with power generated from solar energy.
Agriculture
Many agricultural projects aimed at increasing vegetation in the Kingdom, in addition to productive agricultural projects geared towards achieving sustainable development and raising the economic and social level of beneficiary families have been implemented and given support.
The initiatives implemented in the agricultural sector include:
"Juthoor" afforestation project, which is under the umbrella of the King Abdullah II Fund for Development.
Healthcare
Projects geared towards providing the best healthcare services in the Kingdom, including:
Establishing a number of public hospitals or expanding them.
Opening many healthcare centres and equipping them with medical supplies and devices, in addition to ambulances, as well as implementing expansion and maintenance work at healthcare centres in all governorates.
Supplying a number of Health Ministry and Royal Medical Services hospitals with the latest medical devices to upgrade the healthcare services offered to citizens.
Funding an initiative to accredit a hospital in every governorate in order to enhance the quality of healthcare services offered.
Education
To achieve His Majesty's vision and aspirations to enhance education in the Kingdom. The following initiatives are aimed at fulfilling:
Establishing King Abdullah II Schools for Excellence around the Kingdom's governorates and providing them with transport services.
Building, expanding and maintaining many schools as well as opening kindergartens in them.
Constructing and revamping a number of vocational schools in the Kingdom.
Tourism
A number of tourism projects have been supported, with the aim of developing and supporting the sector, in addition to enhancing the level of services offered in Jordan. These projects include:
Restoring villages that attract tourists.
Establishing public parks around the Kingdom.
Establishing tourism projects, such as inns for visitors and popular tourist viewpoints.
Supporting a number of festivals held to promote tourism.
Initiatives to Empower People with Disabilities
Work is underway to coordinate with the Ministry of Social Development and the Higher Council for the Affairs of Persons with Disabilities to construct and equip a number of centres to diagnose disability and centres for early detection. Work also seeks to fully rehabilitate people with disabilities, in addition to secure means of transport that would serve disability centres. Moreover, the initiatives entail offering direct support to a number of commissions and civil society institutions that support and empower people with disabilities.
Housing Initiative
In November 2005, His Majesty launched a pilot project for decent family housing in Mafraq Governorate.
The first phase of the project included constructing 600 units for families in 10 governorates, while the second phase included building 1,400 units distributed around the Kingdom's governorates. The units were completed and delivered to their owners. So far, more than 2,000 housing units have been delivered to their targeted beneficiaries, while hundreds of housing units are still under construction. This initiative also entails equipping the houses with furniture and the necessary appliances.
Safeguarding Holy Sites in the Kingdom and Jerusalem
The Royal initiatives to safeguard holy sites in the Kingdom and religious sites in Jerusalem include the following:
Support building and maintaining mosques; and provide assistance to mosque committees in the Kingdom's governorates.
Allocate plots of land to Islamic graveyards in the Kingdom, and provide the required infrastructure.
Rehabilitate martyrs' cemeteries in the Kingdom (Karama Battle martyrs' cemetery in Um Al Hiran and three other locations in cooperation with the Jordan Armed Forces-Arab Army).
Uphold the responsibilities enshrined in the Hashemite Custodianship over Al Aqsa Mosque / Al Haram Al Sharif, in addition to the other Islamic and Christian holy sites in Jerusalem, including their complete maintenance. This includes rebuilding Salaheddin's minbar (pulpit) and refurbishing and restoring Al Aqsa Mosque.