King, Queen receive Zayed Award for Human Fraternity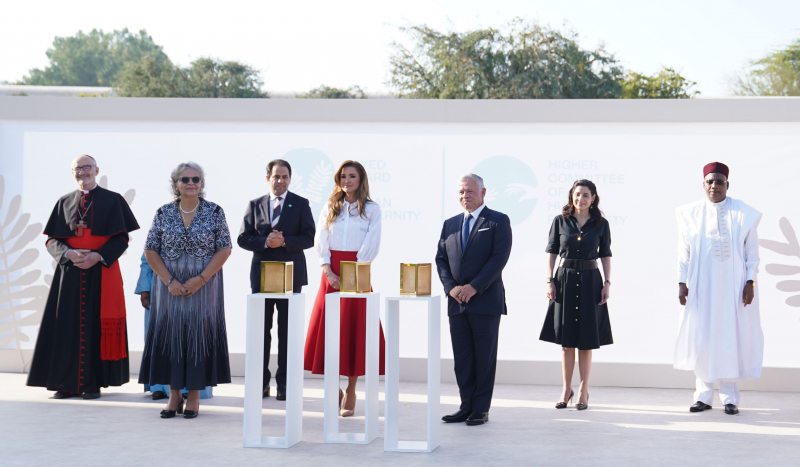 Their Majesties King Abdullah and Queen Rania Al Abdullah on Saturday received the 2022 Zayed Award for Human Fraternity.

The award, presented during a ceremony at the Founders Memorial in Abu Dhabi, was granted in appreciation of Their Majesties' efforts to promote human fraternity, mutual respect, and peaceful coexistence.

The award was also presented to Haitian humanitarian organisation FOKAL.

In a recorded video message played at the ceremony, Grand Imam of Al Azhar Sheikh Ahmad Al Tayyib congratulated Their Majesties, describing them as role models for fraternity and coexistence.

He expressed appreciation for His Majesty's constant efforts to sustain interfaith dialogue, and safeguard Islamic and Christian holy sites in Jerusalem, and for his support for the Palestinian people, commending Jordan and the Jordanian people for hosting refugees.

He also commended Her Majesty's forceful participation in caring for women, children, and the underprivileged, and in promoting fraternity and love among people.

In another recorded message, Pope Francis praised Their Majesties' commitment to promoting the values of coexistence and dialogue between different religious traditions, in the fight against discrimination, and for the empowerment of young people and women.

"By supporting the values of human fraternity, you have contributed to making the Kingdom of Jordan an example of tolerance and coexistence," the Pope said.

"The award that is presented to you today is a recognition that also goes to all Jordanian people, who with determination and courage, even in the midst of many difficulties, pursue the path of peace, moderation, and the rejection of violence," he added.

Their Majesties have donated the sum of the prize to pay back the financial commitments facing indebted Jordanian women unable to pay back loans they had taken to support their families.

The award is organised by the Higher Committee of Human Fraternity, an independent international committee instituted to promote human fraternity values in communities around the world and to fulfil the aspirations of the Document on Human Fraternity, signed by Grand Imam of Al Azhar Sheikh Ahmad Al Tayyib and Pope Francis in Abu Dhabi in 2019.

Sheikh Abdullah bin Zayed Al Nahyan, the minister of foreign affairs and international cooperation of the UAE, members of the Higher Committee of Human Fraternity, and members of the award's judging committee attended the ceremony.

Last year, the award was presented to UN Secretary General António Guterres and Latifa Ibn Ziaten, founder Of IMAD Association and an activist against extremism.