King, President Biden discuss cooperation to enhance regional stability, ensure de-escalation in Palestinian Territories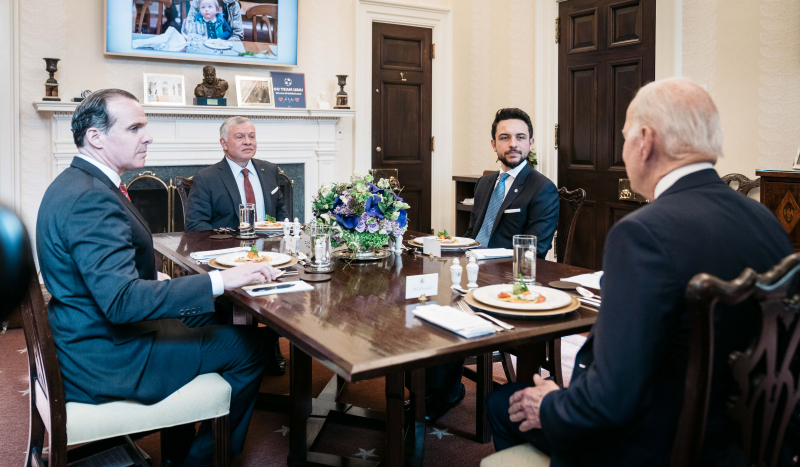 His Majesty King Abdullah and US President Joe Biden on Thursday discussed means of bolstering cooperation between Jordan and the United States to enhance regional stability and ensure de-escalation in the Palestinian Territories.

During a meeting at the White House, attended by His Royal Highness Crown Prince Al Hussein bin Abdullah II, King Abdullah commended the United States' crucial efforts in restoring calm and creating a political horizon that maintains prospects for just and comprehensive peace, based on the two-state solution.

His Majesty stressed the need to cease Israeli measures that undermine the two-state solution and push towards escalation, calling for stepping up efforts to support the Palestinian people in attaining their just and legitimate rights, by establishing an independent Palestinian state on the 4 June 1967 lines, with East Jerusalem as its capital, living side-by-side with Israel in peace and security.

President Biden reaffirmed his support for the two-state solution, noting the vital role of the Hashemite Custodianship of holy sites in Jerusalem.

President Biden also emphasised the importance of preserving the status quo in Al Haram Al Sharif.

Moreover, the leaders discussed the deep-rooted, strategic partnership between Jordan and the United States, and keenness to enhance it across various sectors.

The King expressed appreciation of the deep friendship between the governments and peoples of the two countries, thanking the United States for its continued support for Jordan in various fields.

President Biden thanked His Majesty for the partnership between Jordan and the United States and for his leadership as a stabilising force in the Middle East, stressing the United States' commitment to the Kingdom's stability and economic prosperity, amid various regional and international challenges.