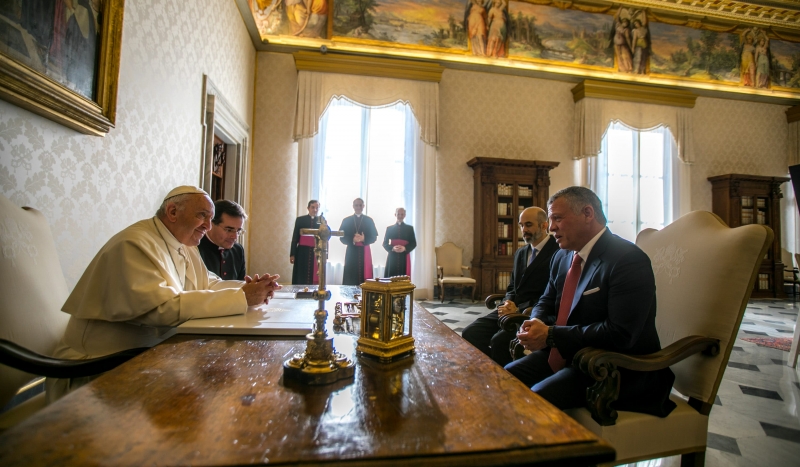 His Majesty King Abdullah's meeting with His Holiness Pope Francis on Tuesday focused on the developments related to Jerusalem, in the wake of the United States' decision to recognise the holy city as Israel's capital and move its embassy to it.
Discussions at the meeting—attended by His Royal Highness Prince Ghazi bin Muhammed, His Majesty's chief adviser for religious and cultural affairs and personal envoy—covered the implications of the US decision, and its provocation of Muslims and Christians in the region and beyond.
King Abdullah called for preserving the legal and historical status quo in Jerusalem, asserting that Jordan will continue to undertake its historical and religious role as protector of Islamic and Christian holy sites in Jerusalem, in line with the Hashemite Custodianship and with the aim of preserving the Arab, Muslim and Christian identity of the city.
His Majesty affirmed the importance of intensifying efforts to safeguard the rights of Palestinians, Muslims, and Christians to Jerusalem, which is key to regional peace and stability.
The King stressed that the US decision violates international law and relevant United Nations resolutions, noting that the status of Jerusalem must be settled within the framework of a comprehensive solution that leads to the establishment of an independent Palestinian state, with East Jerusalem as its capital, living side by side with Israel.
For his part, Pope Francis, who had expressed deep concern following the US decision, said Jerusalem is a unique city that is holy for Jews, Christians, and Muslims.
The Pope called for respecting Jerusalem's status quo, according to the relevant United Nations resolutions regarding the city, in order that further violence and tension may be avoided.
Pope Francis, referring to His Majesty's pivotal role in safeguarding holy sites in Jerusalem, commended Jordan's commitment to peace and stability throughout the region and the world.
The King also met with Secretary of State Cardinal Pietro Parolin.
Discussions at the meeting, also attended by Prince Ghazi, covered regional developments and means to bolster cooperation between Jordan and the Holy See.
Foreign Minister Ayman Safadi, and Paul Richard Gallagher, the Holy See Secretary for Relations with States, attended the two meetings.