King meets political science professors, says Palestinian cause at core of Jordan's diplomatic activity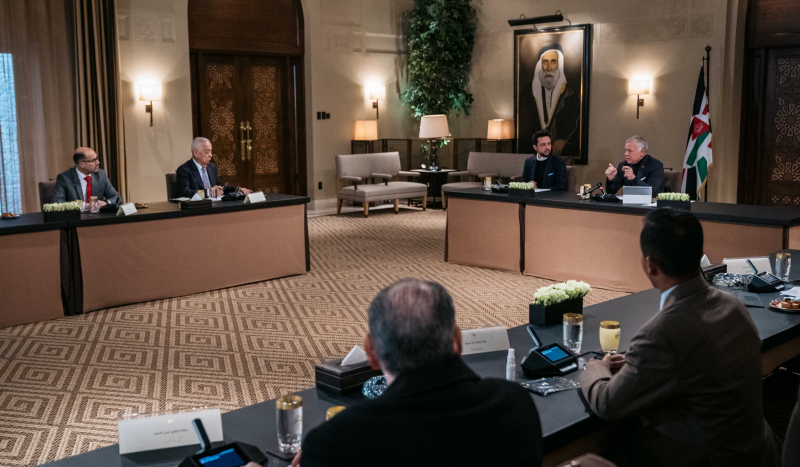 His Majesty King Abdullah on Wednesday stressed that the Palestinian cause is at the core of Jordan's diplomatic action, in order to mobilise support for the Palestinian people.

At a meeting held at Al Husseiniya palace with political science professors from Jordanian universities, King Abdullah said the latest diplomatic activity by Jordan was aimed at maintaining calm in the Palestinian Territories for the current period, in order to preserve chances to reach a political solution on the basis of the two-state solution.

His Majesty stressed the need to end unilateral measures and counter Israeli violations, while safeguarding Islamic and Christian holy sites in Jerusalem.

At the meeting, attended by His Royal Highness Crown Prince Al Hussein bin Abdullah II, the King highlighted the outcomes of his recent visits to Cairo, Abu Dhabi, Doha, Ottawa, and Washington, DC.

His Majesty reaffirmed the importance of including Palestinians in regional economic projects, noting that the economic track is not an alternative to the political track.

The King also spoke about regional developments, expressing condolences over the victims of the earthquake that struck Syria and Türkiye and noting Jordan's efforts to provide aid and assistance.

His Majesty stressed the need to support the Syrian people, as the devastation wrought by the earthquake further compounds the difficult conditions they are already facing difficult conditions.

The King also referred to Jordan's efforts to promote regional cooperation through the trilateral framework with Egypt and Iraq, as well as through efforts to support Lebanon by working on electric connectivity projects.

The university professors commended His Majesty's diplomatic efforts at the Arab and international levels, noting that Jordan is undertaking a key role in defending the Palestinian cause and promoting Arab integration and cooperation.

The political science professors gave comments and suggestions on foreign policy issues, adding that Arab countries should utilise the diplomatic tools at their disposal to safeguard their peoples' interests.

Royal Hashemite Court Chief Yousef Issawi and Director of the Office of His Majesty Jafar Hassan attended the meeting.