King meets CEOs of major US, international companies in New York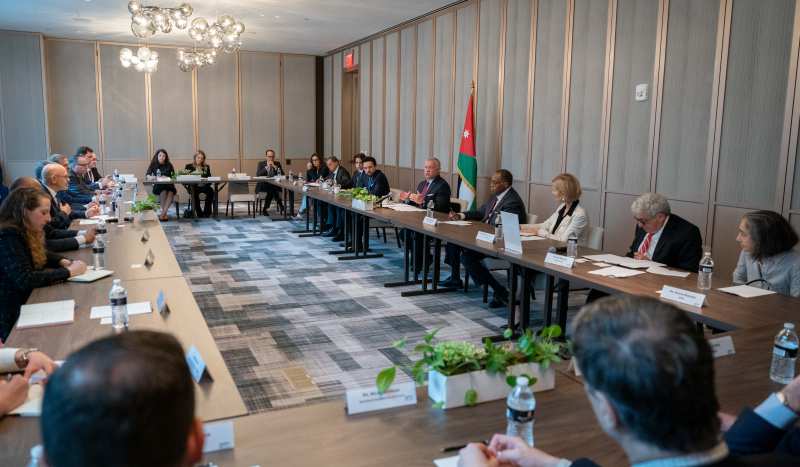 His Majesty King Abdullah on Monday met with CEOs and representatives of major US and international companies in New York, with discussions focusing on investment opportunities in promising sectors in Jordan.

The attendees represented companies working in ICT, energy, education, and transportation, as well as food and defence industries.

The meeting covered the advantages of the investment-friendly ecosystem in Jordan, including its transport, energy, and communications infrastructure, in addition to economic and financial stability, and the strong banking sector, which all contribute to enhancing the business environment.

Held in partnership with the Business Council for International Understanding (BCIU) and attended by Their Royal Highnesses Crown Prince Al Hussein bin Abdullah II and Prince Hashem bin Abdullah II, the meeting also addressed Jordan's skilled labour, specialised in key sectors such as engineering and ICT.

In addition, discussions covered Jordan's access to over 1.6 billion consumers in regional and international markets through the multiple free trade agreements the Kingdom has signed.

Jordan's Economic Modernisation Vision and parallel administrative reform efforts to streamline measures for investors and focus on promising sectors for the national economy were also discussed.

Attendees spoke about the importance of keeping up with international economic developments and the skills and specialties needed in the international labour market.

They highlighted the importance of encouraging young people to pursue professional and technical disciplines, noting the need to develop curricula and teaching methods to steer students towards better career choices.

The attendees also expressed interest in exploring investment opportunities in Jordan, and contributing to environmental sustainability projects, in addition to building partnerships with the private sector in Jordan.

They thanked King Abdullah for his keenness on highlighting Jordan's potential and public-private partnership opportunities, commending the doing of business environment in the Kingdom and the talents of young Jordanian entrepreneurs.

Director of the Office of His Majesty Jafar Hassan and Jordan's Ambassador to the United States Dina Kawar attended the meeting.

The BCIU is a non-profit organisation that brings together the world's governments and leading international companies to build commercial partnerships that benefit businesses, countries, and societies.