King meet Saudi crown prince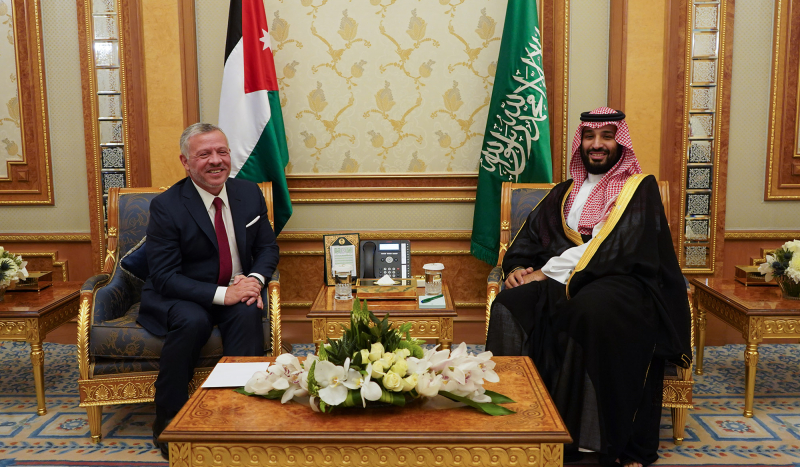 His Majesty King Abdullah, in Riyadh on Tuesday, met with Saudi Crown Prince Mohammed bin Salman bin Abdulaziz Al Saud, who is also deputy prime minister and minister of defence of Saudi Arabia.  
The meeting, held on the sidelines of King Abdullah's participation in the third Future Investment Initiative 2019 forum, organised by the Saudi Public Investment Fund, covered the strong, strategic ties between the two countries and the latest regional developments.  
His Majesty emphasised the deep, brotherly ties between Jordan and Saudi Arabia, and keenness to enhance them in various areas, towards the prosperity of the two countries and peoples and in service of Arab and Islamic causes.  
The King expressed appreciation for Saudi Arabia, under the leadership of Custodian of the Two Holy Mosques King Salman Bin Abdulaziz Al Saud, for its continuous support for Jordan under all circumstances, stressing that Jordan stands with Saudi Arabia, as the national security of Jordan and Saudi Arabia is one.  
His Majesty noted the importance of the Future Investment Initiative forum, as it highlights the investment environment in Saudi Arabia and the region in a way that benefits Arab youth, commending Saudi Arabia's efforts in organising the forum.  
Foreign Minister Ayman Safadi, Adviser to His Majesty for Communication and Coordination Bisher Khasawneh, Adviser to His Majesty for Policies and Media Kemal Al Nasser, Planning Minister and Minister of State for Economic Affairs Mohamad Ississ, and Jordan's Ambassador to Saudi Arabia Ali Kayed attended the meeting.  
On the Saudi side, attendees included Foreign Minister Prince Faisal bin Farhan bin Abdullah, Interior Minister Prince Abdulaziz bin Saud bin Nayef bin Abdulaziz, Minister of State and member of the Cabinet Khalid bin Abdulrahman Al Issa, Chief of the Presidency of State Security Abdulaziz Al Howairini, Governor of the Public Investment Fund Yasir Al Rumayyan.