King inaugurates WEF MENA, says Jordan's most important strength is its high-skill human capital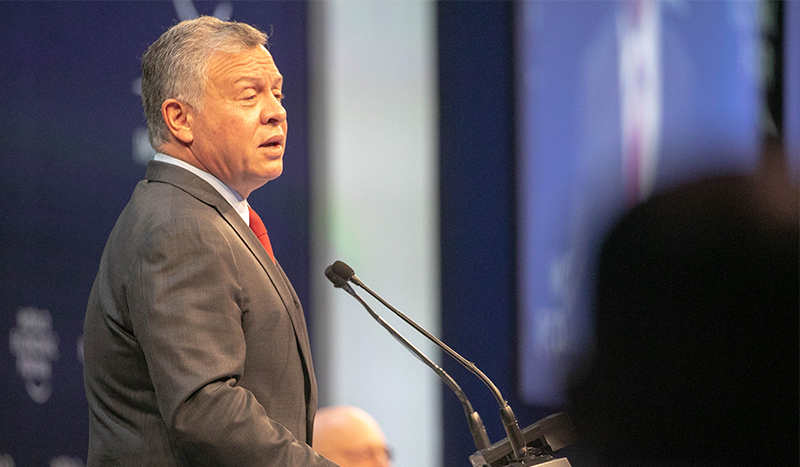 His Majesty King Abdullah on Saturday said Jordan's most important strength is its high-skill human capital.
"Our young people are globally connected, tech savvy, fluent in multiple languages, and determined to succeed. They are proven assets to every enterprise," King Abdullah said in remarks at the opening of the World Economic Forum on the Middle East and North Africa, attended by Her Majesty Queen Rania Al Abdullah and His Royal Highness Crown Prince Al Hussein bin Abdullah II.
Hosted by Jordan for the 10th time, the WEF on MENA is held this year under the theme "Building New Platforms of Cooperation", with the participation of more than 1,000 government, business and civil society leaders from over 50 countries.
In his keynote speech, His Majesty noted that Jordan's economy offers plenty of opportunities.
"To grow opportunities faster, Jordan is making a priority of economic sectors that offer high growth potential and multiple openings for investment," the King said.
"Now these will take advantage of our country's distinctive economic strengths, including our many FTAs and strong trade ties, linking us to more than a billion consumers worldwide," His Majesty added.
The King noted that "the more than 300 million people of our region provide a talent pool eager to compete on a global level, and a huge marketplace of consumers and businesses."
His Majesty highlighted tourism as a growing sector.
"We are seeing rising numbers of foreign visitors to Jordan. They know and trust our welcoming, secure country, and they are drawn to our many and diverse destinations," the King said.
"We will continue to back innovation and enterprise—from start-ups to the global leaders that have made us a base. And above all, we are listening to you, about what is needed for opportunity to flourish," His Majesty added.
"This Forum will be tackling some of the most important issues affecting our region, but they all boil down to a simple reality—our people need you, leaders and partners, in so many fields, to act, and the entire world needs you to succeed," the King told the attendees.
"For every investment in this region's great opportunities, for every investment that creates jobs for our young people, and helps families bring good pay home, our economies grow and opportunities redouble. That's a benefit for us, but it is also a benefit for others, because what happens in our region impacts the entire world," His Majesty added.
Also speaking at the opening session—attended by Palestinian President Mahmoud Abbas, Armenian President Armen Sarkissian, Chief Executive of Afghanistan Abdullah Abdullah, a number of royal family members, senior officials, and diplomats—Nigerian President Muhammadu Buhari urged cooperation among all countries to serve humanity.
President Buhari also noted significant gains in efforts around the world, and especially in Nigeria, to effectively counter terrorism.
"We are extremely grateful to the many countries that have stood with Nigeria to confront this global scourge and in particular, the Kingdom of Jordan under the leadership of His Majesty, the King," he added.
President Buhari said Africa and the Middle East must focus on policies that will deliver shared economic prosperity for all their citizens, urging closer cooperation in investment and trade.
For his part, United Nations Secretary General António Guterres, in remarks at the opening session, commended His Majesty as a "champion of peace" and "a voice for inter-religious coexistence and mutual respect".
"You have been an ally of people in need in and beyond the region," Secretary General Guterres told the King.
"Jordan has demonstrated exceptional generosity to people fleeing conflict and upheaval in Palestine, in Syria and elsewhere, with an enormous impact on Jordan's economy and society," he said.
"In light of the pressures on the country, Jordan deserves strong solidarity from the international community," the UN secretary general affirmed.
Despite challenges, the UN chief pointed to the bright picture, describing Jordan as a country with large investment opportunities for private sector-led growth.
Speaking from his experience when working as high commissioner for refugees, Secretary General Guterres said the UN Refugee Agency selected Jordan as the base to create a global ICT centre to support its activities worldwide.
"We selected the country to do it based on costs, on the quality of manpower and namely digital literacy and also evidently on the infrastructure of the country. Jordan came first. The centre was built. The results outstanding," he noted.
"So, to all those who are pondering an investment in Jordan. My message is very clear: do what I did, and you will not repent," the UN chief affirmed, describing Jordan as "a fundamental pillar of regional stability" and a leading contributor to United Nations peacekeeping.
Turning to regional issues, he said: "Resolving the region's conflicts is an imperative, including the two-state solution, with Israel and Palestine living side by side in peace with secure and recognised borders, and with Jerusalem as capital of the two countries."
Secretary General Guterres also stressed the importance of empowering youth, urging more global attention towards addressing climate change, working towards sustainable development, and turning towards renewable energy.
Earlier at the opening session, WEF Founder and Executive Chairman Professor Klaus Schwab commended Jordan as the "linchpin of the remarkable potential of the whole region".
Professor Schwab stressed the importance of the region for WEF, noting that youth in the Middle East and North Africa have played an outsized role in shaping the Forum's mission.
"We are gathered here today under the theme 'Building New Platforms of Cooperation'. This theme speaks to the need to think and act boldly around our joint future," he added.
Professor Schwab concluded by thanking Jordan and Their Majesties "for not only being such great hosts, but even more importantly, for being such a powerful force for good at a critical time for the future of the region."