King holds talks with Palestinian president in Ramallah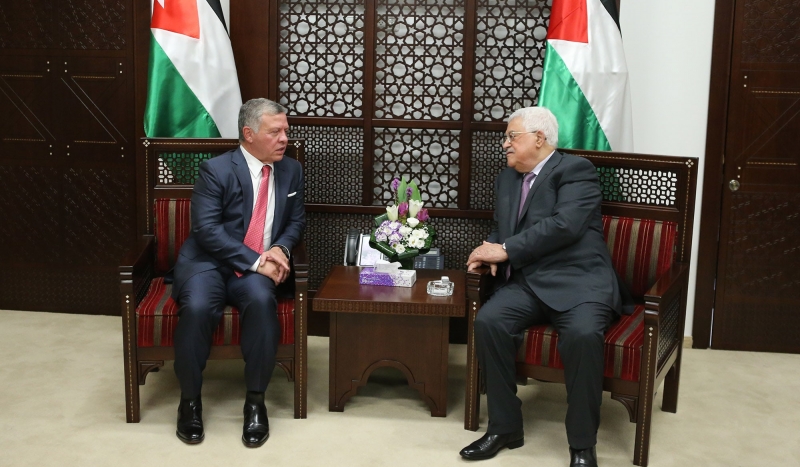 His Majesty King Abdullah and Palestinian President Mahmoud Abbas held talks in Ramallah on Monday that addressed the latest developments related to Palestinian affairs.
King Abdullah also checked on President Abbas' health after the medical check-ups he underwent recently.
During bilateral talks that were followed by an expanded meeting attended by senior officials from both sides, His Majesty stressed the importance of maintaining coordination and unifying Jordanian-Palestinian positions to revive the peace process, with the goal of reaching a just solution to the Palestinian issue, which is a regional and international priority.
In this regard, the King reaffirmed Jordan's full support for the legitimate rights of the Palestinian people, stressing that the Kingdom stands by them in seeking to establish an independent Palestinian state, with East Jerusalem as its capital.
During the talks, the two sides stressed the need to work with the US administration to push the peace process forward and relaunch serious and effective negotiations between the Palestinians and the Israelis, based on the two-state solution.
His Majesty said efforts must be intensified to achieve tangible progress during the upcoming stage.
The King also noted US President Donald Trump's commitment to working towards peace between the Palestinians and the Israelis, stressing the importance of intensifying efforts to find the political way forward to resolve the conflict.
During the talks, which included a working lunch, the two sides affirmed the need to preserve the historical and legal status quo in Jerusalem, warning that any meddling will have negative consequences on the region.
His Majesty reaffirmed that Jordan, in line with the Hashemite Custodianship over Islamic and Christian holy sites in Jerusalem, will continue to safeguard holy shrines by working with the international community.
For his part, Abbas expressed appreciation for Jordan's efforts, led by the King, to support the rights of Palestinian people and their just cause at various international forums.
The Palestinian president praised the key role of His Majesty and Jordan in reopening Al Aqsa Mosque/Al Haram Al Sharif in its entirety and defusing the latest crisis, stressing the importance of the Hashemite Custodianship of Islamic and Christian holy sites in Jerusalem in safeguarding these shrines.
Royal Hashemite Court Chief Fayez Tarawneh, Foreign Minister Ayman Safadi, General Intelligence Department Director Maj. Gen. Adnan Jundi, Director of the Office of His Majesty Jafar Hassan, and the head of Jordan's representative office in Ramallah, Khaled Shawabkeh, attended the talks.
From the Palestinian side, Prime Minister Rami Hamdallah, Secretary General of the Palestine Liberation Organisation's Executive Committee Saeb Erekat, Foreign Minister Riad Malki, Secretary General of the Cabinet Ali Abu Diyak, General Intelligence Service Director Maj. Gen. Majid Faraj, and Palestinian Ambassador to Jordan Atallah Kheiri were in attendance.
An official welcoming ceremony had been held on His Majesty's arrival in Ramallah.