King, French president hold talks in Paris, reaffirm strong bilateral ties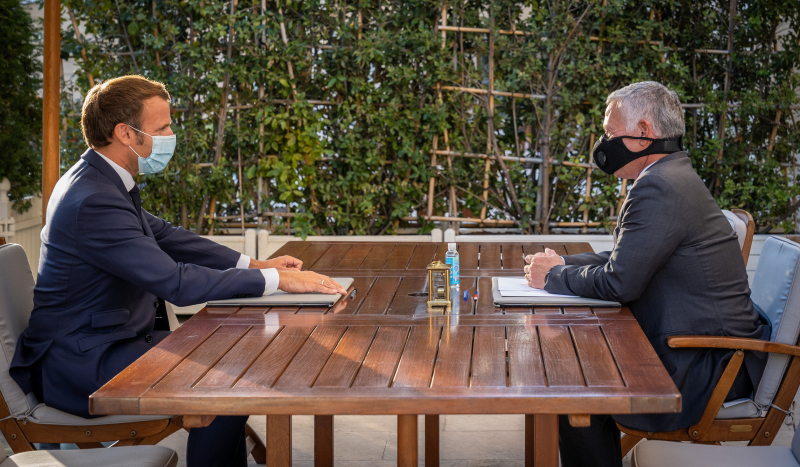 His Majesty King Abdullah and French President Emmanuel Macron on Tuesday reaffirmed the strong, deep-rooted ties between the two countries, expressing keenness to bolster the Jordanian-French partnership.

Talks at the Élysée Palace covered the importance of advancing cooperation across various sectors, especially economic and security fields, while continuing coordination and consultation on issues of mutual concern.

King Abdullah expressed appreciation of France's support for Jordan in implementing a number of development programmes.

Discussions also covered bilateral and international efforts to counter coronavirus disease (COVID-19), and mitigate its humanitarian and economic repercussions, while safeguarding public health and wellbeing.

Turning to the latest regional and international developments, foremost of which is the Palestinian cause, His Majesty stressed the need to reach just and comprehensive peace, on the basis of the two-state solution, guaranteeing the establishment of an independent, sovereign, and viable Palestinian state on the 4 June 1967 lines, with East Jerusalem as its capital.

In addition, talks addressed efforts to reach political solutions to regional crises.

The King commended President Macron's efforts in support of Lebanon and its people, in the aftermath of the Beirut port explosion, and stressed that Jordan, in coordination with its international partners, will continue to provide assistance and support to the Lebanese people during these difficult times.

For his part, President Macron expressed appreciation of His Majesty's efforts to achieve peace, and maintain security and stability in the region and the world.

Foreign Minister Ayman Safadi, Adviser to His Majesty for Policies Bisher Khasawneh, and Jordan's Ambassador to France Makram Queisi accompanied the King on the visit.