King, Egypt president hold talks at Basman Palace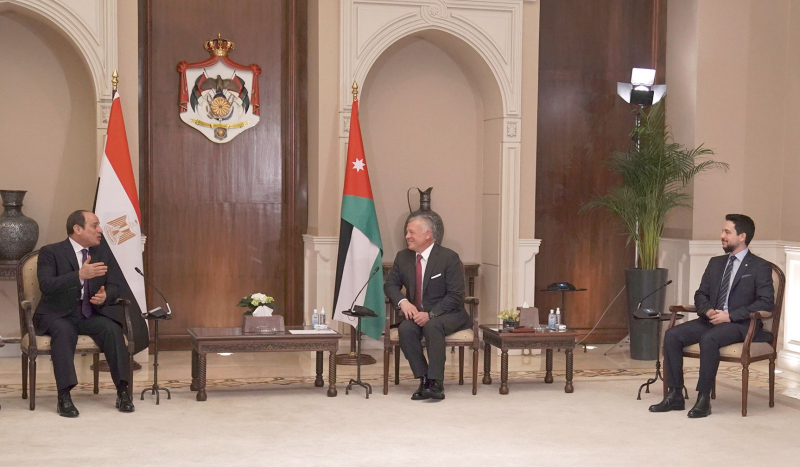 His Majesty King Abdullah and Egyptian President Abdel Fattah El Sisi held talks on Monday that covered the deep-rooted bilateral relations and the importance of bolstering cooperation in service of shared interests.
During bilateral and expanded talks at Basman Palace, attended by His Royal Highness Crown Prince Al Hussein bin Abdullah II, King Abdullah commended the distinguished level of coordination and consultation between the two countries on various issues of mutual concern.
The two leaders discussed means to bolster cooperation across all sectors, and expand Jordanian-Egyptian-Iraqi cooperation, while building on progress made at the three previous summits.
Turning to the latest Arab and regional developments, foremost of which is the Palestinian cause, His Majesty reaffirmed Jordan's steadfast position, which calls for a just and comprehensive peace on the basis of the two-state solution, guaranteeing the establishment of an independent, sovereign, and viable Palestinian state on the 4 June 1967 lines, with East Jerusalem as its capital.
The King welcomed the outcomes of the 41st Gulf Cooperation Council Summit hosted by Saudi Arabia, which contributed to enhancing solidarity and stability in the Gulf Arab region.