King, Austrian president hold talks in Vienna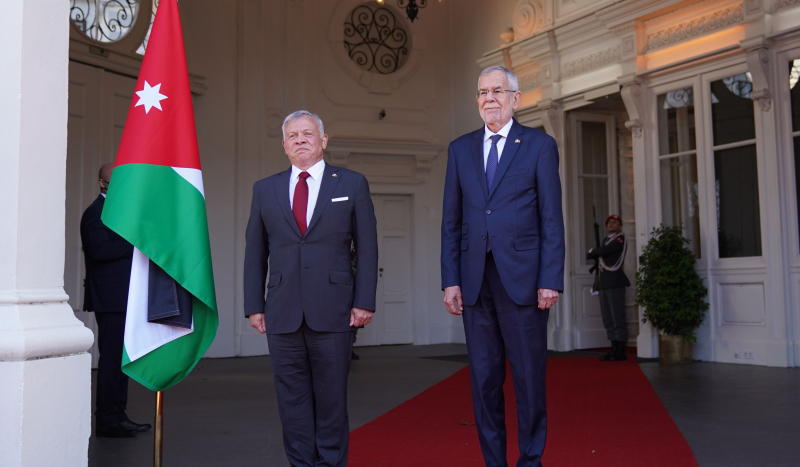 His Majesty King Abdullah on Monday started his Europe tour in Austria, where he held talks with Federal President Alexander Van der Bellen on bilateral ties and means to expand economic, trade, and military cooperation.
The talks, which were held at Hofburg Palace and continued over a working lunch attended by His Royal Highness Prince Ali bin Al Hussein, covered the latest regional developments, foremost of which is the Palestinian cause, as well as global issues such as climate change, food security, and means to counter the COVID-19 pandemic.
Discussions also addressed advancing cooperation in the fields of safeguarding the environment, vocational education, and agricultural and food industries.
King Abdullah stressed the need to reach just and comprehensive peace on the basis of the two-state solution, guaranteeing the establishment of an independent, sovereign, and viable Palestinian state on the 4 June 1967 lines with East Jerusalem as its capital.
His Majesty said Jordan will continue its efforts to safeguard Islamic and Christian holy sites in Jerusalem, under the Hashemite Custodianship, stressing the need to maintain support for UNRWA to sustain its health and education services under its UN mandate.
The talks also covered the importance of reaching political solutions to regional crises, as well as continuing efforts to counter terrorism within a holistic approach.
Deputy Prime Minister and Foreign Minister Ayman Safadi, Director of the Office of His Majesty Jafar Hassan, Jordan's Ambassador in Vienna Leena Al Hadid, and a number of senior Austrian officials attended the talks.