King attends launch of masterplan to develop land adjacent to Baptism Site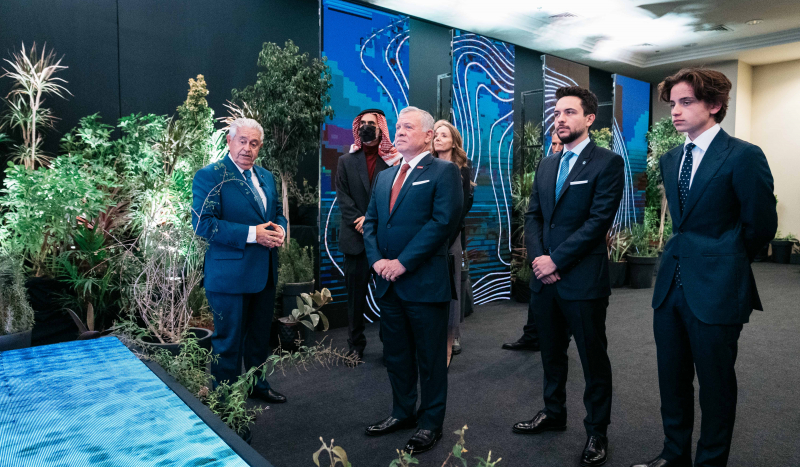 His Majesty King Abdullah on Wednesday attended the launch of the masterplan to develop the land adjacent to the Baptism Site of Jesus Christ, in order to enhance the services offered to pilgrims and visitors.

King Abdullah, accompanied by His Royal Highness Crown Prince Al Hussein bin Abdullah II, viewed an exhibit showcasing the details of the masterplan and the designs that would be implemented in the land adjacent to the Baptism Site, over an area of 1,374 dunums.

His Majesty listened to a briefing on the masterplan, which will be implemented over several phases and is based on architectural studies that ensure respecting the spirituality of the holy site.

The Baptism Site of Jesus Christ, also known as Bethany Beyond the Jordan and recognised by UNESCO as a World Heritage Site, will remain a protected zone, pristine and untouched. It is overseen by a Royal Commission responsible for preserving it, headed by His Royal Highness Prince Ghazi bin Muhammad, His Majesty's chief adviser for religious and cultural affairs and personal envoy.

The Baptism Site of Jesus Christ, located 9km north of the Dead Sea on the East Bank of the Jordan River, is one of the holiest sites for Christianity on earth; efforts to preserve and protect it are in line with the historical role of His Majesty towards holy sites under the Hashemite Custodianship.

Their Royal Highnesses Prince Hashem bin Abdullah II, Prince Ghazi, and Prince Mired bin Ra'ad, chief royal councillor at the Royal Hashemite Court, as well as a number of Royal Family members, senior officials, Christian leaders, and international figures and investors attended the launch.