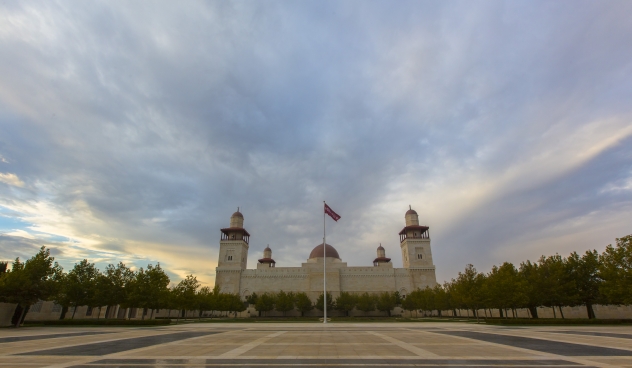 Al Husseiniya Palace was built in 2006 west of the capital Amman, next to the King Hussein bin Talal Mosque, Al Hussein Park, the Royal Automobile Museum and the Children's Museum Jordan.
The Palace houses the new offices of His Majesty King Abdullah II, Her Majesty Queen Rania Al Abdullah and His Royal Highness Crown Prince Al Hussein bin Abdullah II.
In its design, Al Husseiniya Palace is a combination of Arab Islamic architectural heritage, represented by the arches and the designs on the walls and doors; and the simplicity and elegance of interior design.
Al Husseiniya Palace also houses the offices of the Royal Hashemite Court Chief and the Royal Protocol Chief, in addition to the halls where bilateral and expanded meetings are held during official visits.
Moreover, the Palace also includes a dining hall, a hall for major celebrations and a courtyard for outdoor ceremonies — located in the space separating the Palace from the King Hussein Mosque — where kings and presidents are received.
His Majesty conducts most daily meetings and official interviews in this Palace, which was named Al Husseiniya due to its location next to the King Hussein bin Talal Mosque.